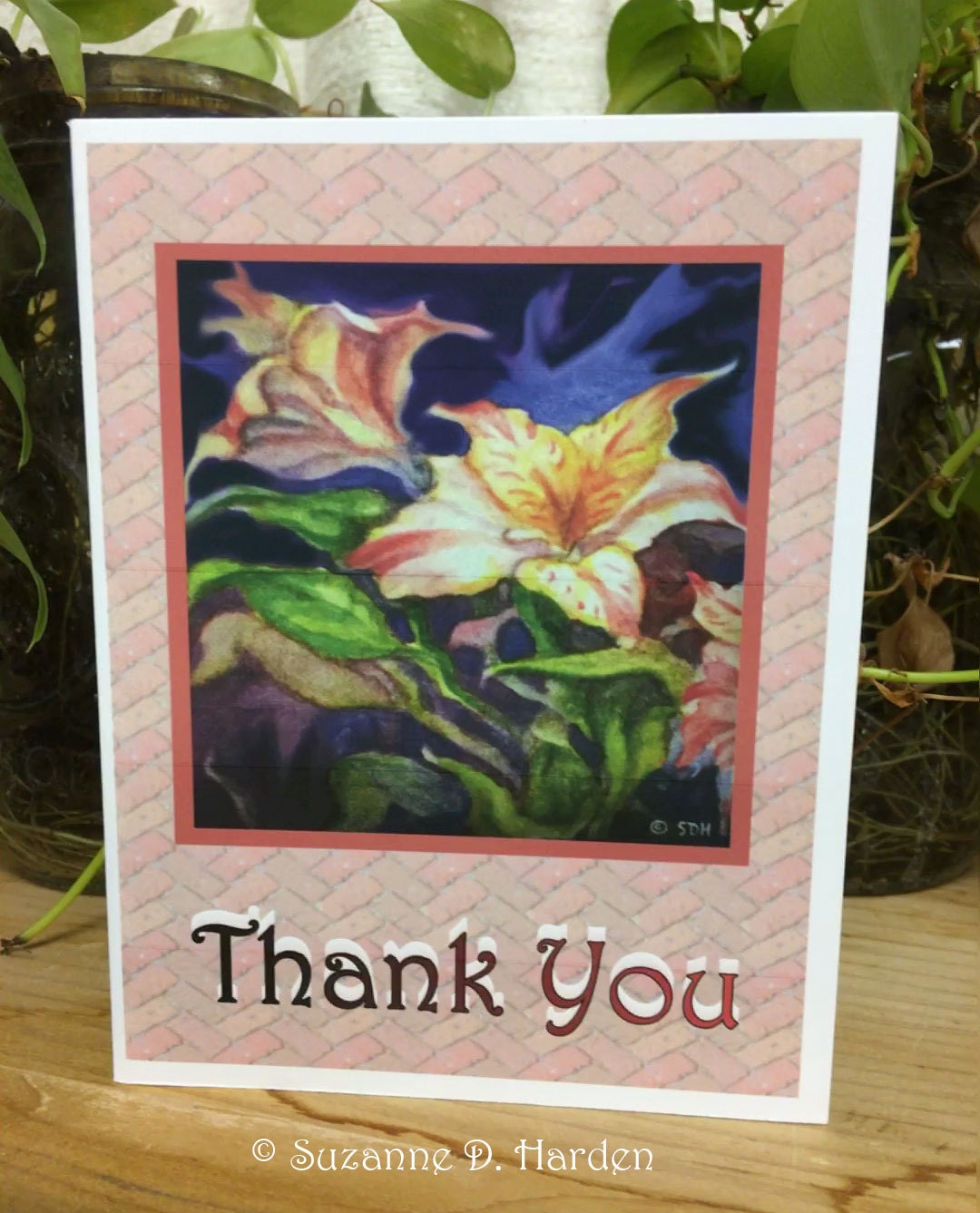 https://www.wingspublications.shop/listing/620764692/handmade-thank-you-card-with-matching
Wildflowers
I used to go for really, really long walks before I became ill with the Epstein Barre virus which triggered my auto-immune illnesses. 
My prayer walks were my quiet time with the Lord. 
He blessed me in the Spring and summer with many lovely flowers in the fields by the roadside. 
I would come home with bouquets of wildflowers.
My husband would frown when he saw my treasures.
"Why on earth did you bring those weeds home?"
"Weeds!" I could not believe he would call these beauties I held in my hands weeds. 
I would immediately find just the right vase for them and set about doing their portrait before they could wilt and die.
Every time I painted wildflowers from the road side, my husband would smile and shake his head at me. 
Once he even said, "You know, some folks even pay to have those things you think are so lovely killed when they pop up in their yards."
The thought of this made me very sad as I painted yet another flower portrait.
I couldn't help but think that God's children were a lot like beautiful wildflowers.
He planted them wherever He wished and no matter how hard the enemy tried to destroy them, he would never be able to for they would just proliferate all the more all across the ends of the earth till the Lord Jesus Christ returned for His Church~His beautiful Wildflower Bride. 
John the Apostle said, '"See how very much our Father loves us, for he calls us his children, and that is what we are! But the people who belong to this world don't recognize that we are God's children because they don't know him." (1 John 3:1~NLT)
Believers may look like weeds to people who don't share our faith.
To God we are beautiful treasures that He created to love.
"Our Lord and God!
You are worthy to receive glory and honor and power.
You made all things. Everything existed and was made because you wanted it." (Revelations 4:11 ERV)
One day I needed a Thank You card. Not having any on hand, I decided to make one. The Lord inspired me to use one of my wildflower studies to grace the cover. 
My newly made Thank You card reminded me to be thankful for every wildflower the Lord had blessed me with on my prayer walks years ago.
For since this past April, when my auto-immune illness suddenly flared up and I became severely ill, I have not been able to take any walks outside. 
Nor have I been able to endure any fresh flowers, wild or otherwise, because of the allergies triggered by my illness. 
My card made me thankful for every one of those floral watercolor studies, for they are but imperfect shadows of the beautiful, yet fragile treasures the Lord gave me by the roadside years ago. 
My wildflowers only lived a few days at most. 
It was as if the Lord was using them to teach me that their ephemeral beauty was but a reflection of the eternal majesty that awaits us in our Heavenly home~ an eternal home provided for all by the Son of God, Jesus Christ, who died on the cross to forgive our sins so that we could have eternal life with Him as one of His treasured wildflowers.
Who could not accept, nor yet be thankful for His precious gift?
"As for man, his days are as grass: as a flower of the field, so he flourisheth.
For the wind passeth over it, and it is gone; and the place thereof shall know it no more.
But the mercy of the Lord is from everlasting to everlasting upon them that fear him, and his righteousness unto children's children..." Psalm 103:15, 16, 17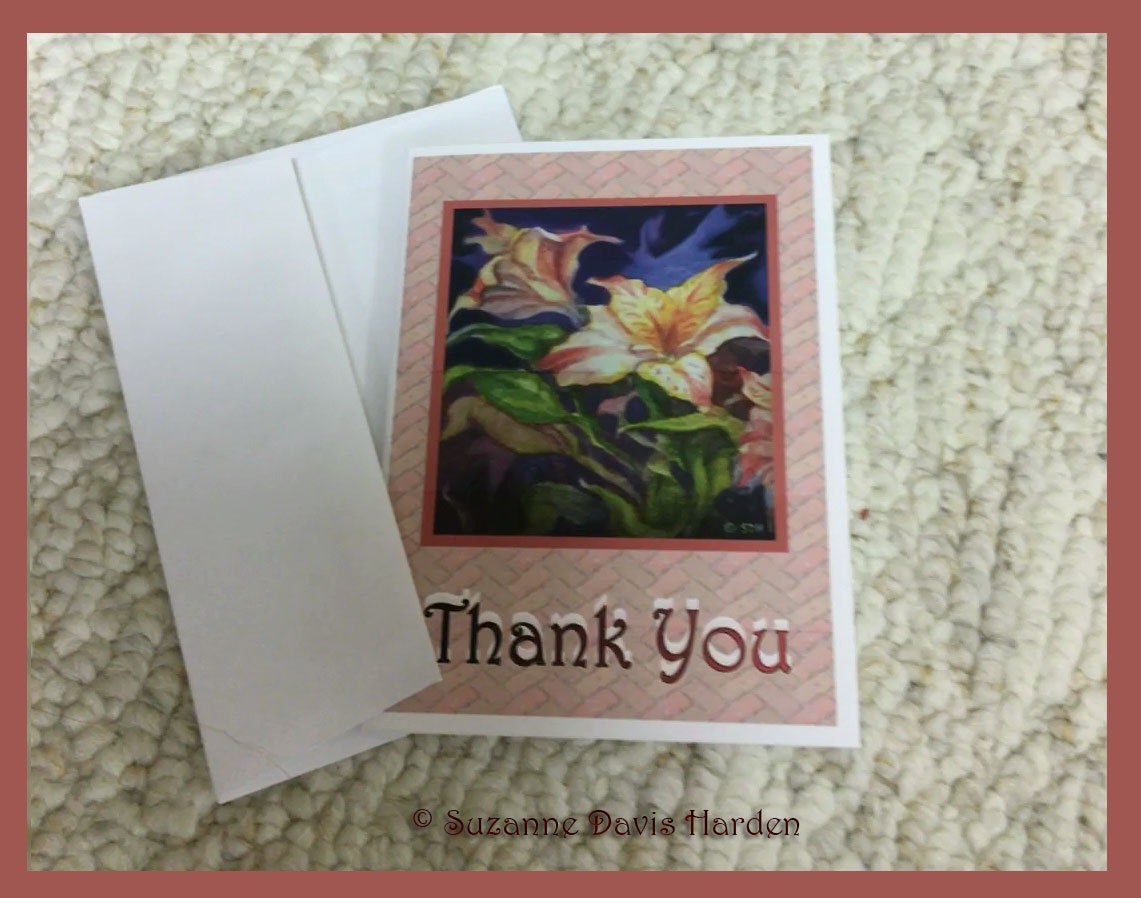 https://www.wingspublications.shop/listing/620764692/handmade-thank-you-card-with-matching