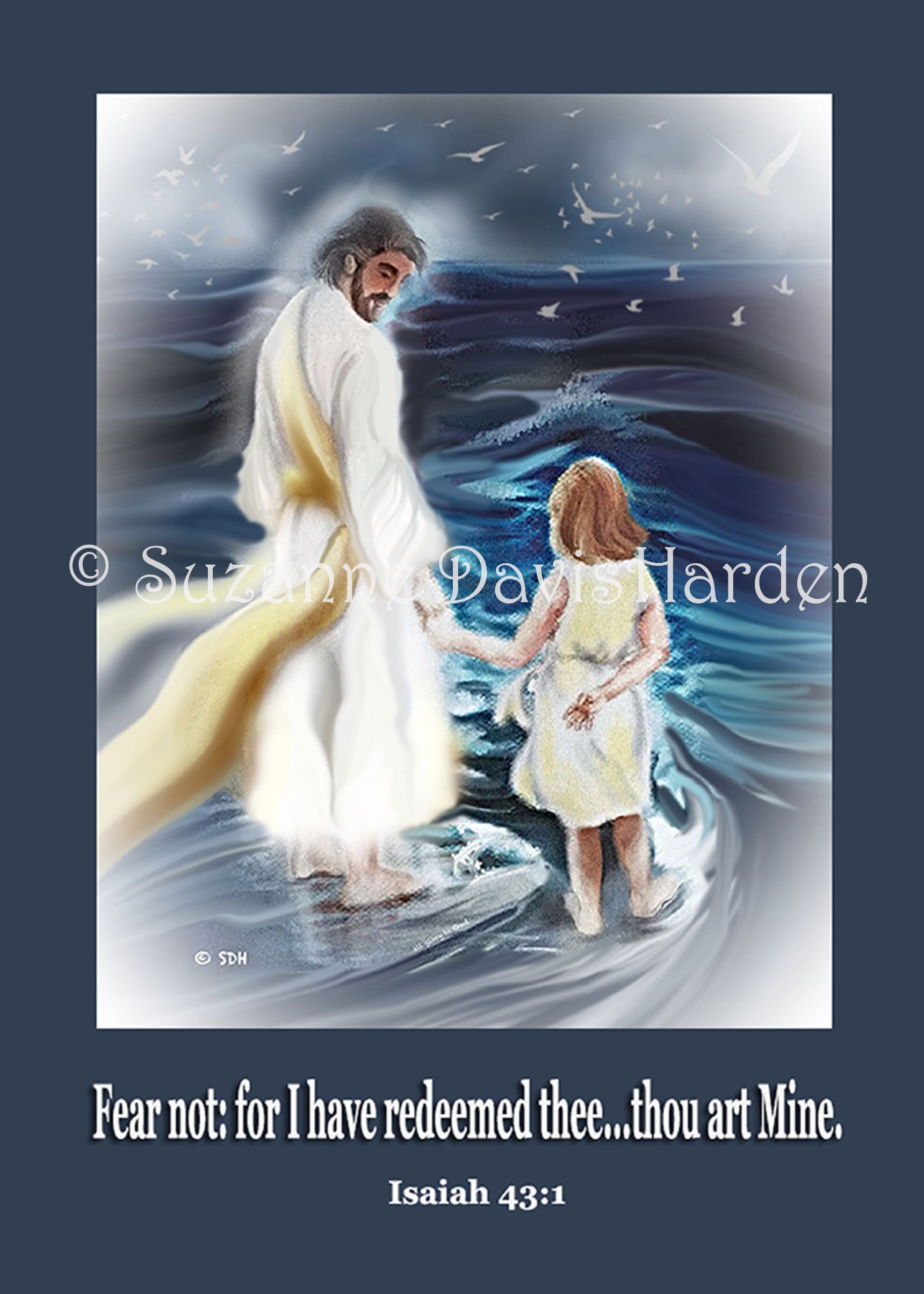 Inspirational Fine Art Poster "Fear Not" © Suzanne Davis Harden  
 My Inspirational "Fear Not" Poster is an updated version of an earlier painting I did of a reluctant child with the Lord Jesus Christ by the seashore.   
In my new painting, the Lord Jesus is leading the child. His hand is firmly linked with hers. 
This linking is a visual metaphor for prayer, or spiritual communication with the Lord. 
For prayer is how we stay connected with Christ and continue to walk with and abide in Him.    
Despite the storm and the child's discouraged posture, the Lord is assuring her that He understands and loves her, not for anything she does or does not do for Him.  For her work is not what matters the most to Him. 
It is her heart that He loves and died to save.   
The Lord is telling her that the most important thing in life is that she stays connected to Him despite the bitter storm, the wind and waves of adversity, the heckling birds overhead, and the cold, stinging rain. 
 For no matter what happens, He will keep holding on to her hand. 
He will never let go despite every challenge that comes her way.   
And she must be just as diligent to cling to His hand by keeping her focus on Him. She must not allow the storm, nor disappointments, nor anything else to relax her grip on His hand or make her think that He no longer loves her. For even if she gets too weak to hold on, He assures her, that He will be strong enough to keep holding on to her. He will never let her go. She will be His forever. No pain, No darkness, no adversity, not all the forces of darkness, even if they all joined together and pulled with all their might would be strong enough to pull her away from the Lord's almighty grip. For had He not promised  that nothing could take His sheep away from Him or His Father. "My sheep hear my voice, and I know them, and they follow me: And I give unto them eternal life; and they shall never perish, neither shall any man pluck them out of my hand. My Father, which gave them me, is greater than all; and no man is able to pluck them out of my Father's hand." (John 10: 27-29 KJV)    
In my painting, the Lord is committed to getting the child across the turbulent sea into the place of peace and joy, light and love where there will be no more storms, nor sadness, nor pain.    
The Lord Jesus gazes at His child patiently, with eyes of love. He does not scold nor criticize her for her reluctance to go down the dark path He has chosen for her. 
Our Lord cherishes each of us. He does not judge, condemn, or criticize our efforts for Him.  He meets us where we are.
God is love. 1 John 4:8
 Even when we stumble and make mistakes, He continues to hold us and to love and forgive us. He continues to lead us onward, encouraging our hearts to keep trusting Him.   
 Christ wants us to know that we can do whatever it is He has called us to do, though it may seem so impossible to us in our weakness.    
The Lord Jesus told the apostle Paul, "My grace is sufficient for thee: for my strength is made perfect in weakness. 2 Corinthians 12:9  
Paul wrote, "I can do all things through Christ who strengthens me." Philippians 4:13   
"Fear not," the Lord says in Isaiah 43.   
"Fear not," Jesus told the disciples in the storm tossed boat on the Sea of Galilee when they thought they would perish in the violent tempest.    Yet when He spoke to the wind and waves, they at once calmed down and there was peace. 
"The disciples said one to another, "What manner of man is this, that even the wind and the sea obey him?" (Mark 4:41)  
 Jesus Christ is the Master of the wind and waves and every storm that arises in our life. 
No matter where our Lord may lead us, He will be with us. He will hold our hand. He will never leave or forsake us. 
"Fear not: for I have redeemed thee, I have called thee by thy name; thou art mine. When thou passest through the waters, I will be with thee; and through the rivers, they shall not overflow thee: when thou walkest through the fire, thou shalt not be burned; neither shall the flame kindle upon thee." (Isaiah 43:1-2) 
__________________________________________________________________________________  
https://www.wingspublications.shop/listing/624662071/inspirational-art-giclee-poster-print
Purchased Fine Art Prints and Posters are NOT watermarked.  My "Fear Not" Fine Art Poster print measures 10" inches wide x 14" inches length and is printed on Hahnemuhle fine art paper, shipped flat in a sturdy, rigid mailer between protective layers of cardboard.    Shipping is via Fed Ex or USPS within 5-7  Business days of your order.