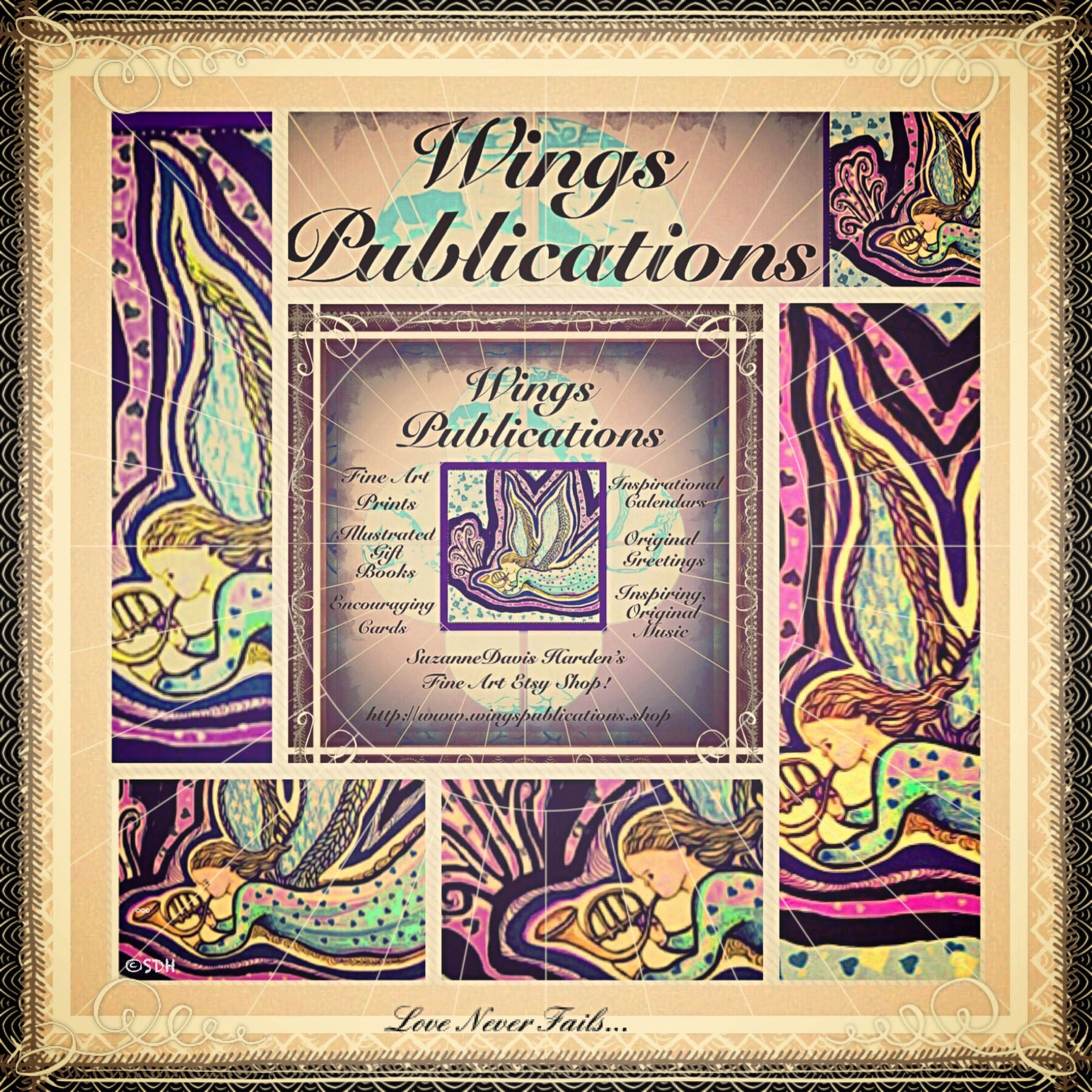 Wings Publications is dedicated to my Lord and Savior Jesus Christ. 
I am very thankful that despite my health and other challenges, that the Lord blessed us with over 186 sales and seventy three positive customer ratings since we started our Etsy Shop in 2013. It was proof to me of God's promise that He would never fail me because He is love. 
I started my first Etsy Shop because the Lord asked me to.
He did not ask me to earn money. He simply asked me to trust Him and to walk by faith believing that He keeps every promise forever. 
His promise was that He would never fail me because He is love and love never fails.
I have an auto immune illness that results in my suffering from chronic migraines every day. 
God has never failed me despite my painful migraines.
The Lord led me to start my Pattern Shop two years ago. 
Though I have never made any profits from either of my Etsy shops, both of my shops are profitable in the Lord's eyes.
How? 
Because He asked me to trust Him and walk by faith and do this work despite my having chronic fatigue, fibromyalgia, and daily migraines that are sometimes so debilitating that I can hardly get out of bed. 
The Lord said that when I meet Him face to face one day, He is not going to ask me if the shops He'd asked me to manage were materially successful, but had I obeyed Him to persevere in the work He had called me to do despite every hindrance, setback and appearance of failure? 
Was I faithful to follow through with all He had asked me to share for His glory no matter what circumstances plagued me, no matter how unpopular my gifts were, no matter if no one wanted or purchased them, had I obeyed Him and not given up in defeat? 
For the Lord said that all He was interested in was that I did His will, not that I made money, or earned any fame, established a large following, or was in any worldly way profitable or successful. 
For those were all the things people cared about, but they meant nothing in Eternity. 
In fact, money, fame, and every worldly accomplishment would all disappear when we leave this life. 
"And only those who do the will of the Father will abide forever..." 1 John 2:17
The Lord wanted me to learn that what I create has value even if no one purchases it, favorites it, or otherwise cares about it at all. 
Though all the world might ignore what He gave me to share, to share His gifts was His will. 
For whenever I obeyed Him, I was bringing Him great glory and honor. 
My trust and faithful obedience demonstrated that He is faithful to His Word, that He keeps every promise forever, that He is love, and that love never fails. 
The Lord wanted for me to learn that all of the work I put into my cards, paintings, prints, books, and music CDs all comes from Him. 
He alone gives me the strength and energy to accomplish everything I have done and continue to do. 
Apart from Christ how else could I have published 22 albums of music inspired by the Holy Spirit in the space of five years, 
designed and illustrated countless greeting and encouraging cards of which only a fraction are published, 
created hundreds of original paintings of which comparitively few are published as prints, 
written and illustrated over fifty books in the last five years, of which only four are published, 
composed and recorded thousands of original instrumental as well as vocal prayer songs (unpublished) in the last seven years, all by the power and inspiration of the Holy Spirit, and all for the glory and honor of the Lord Jesus Christ.
All of these beautiful works are more than could ever be published or shared in a single lifetime~apart from His miraculous power and grace. 
I am overwhelmed by the generosity of our wonderful God who pours out His gifts upon all of His children who trust and receive by faith His promises. 
I used to price each of my products by comparing them with how other similar products were priced, not taking into account all of the time, energy, effort, and all of the resources I had put into their design and creation, not to mention the introduction of each product listing into my Etsy Shop which can take several days. 
The Lord revealed to me that my products were as unique as my soul which I was investing in them. If I could not compare myself with others why would I compare my creations with what others made and price them by what they were charging? 
I had no idea what they put into their work, but I knew what I had sacrificed to create and share mine. I would no longer follow the crowd. And if no one bought my products, well, they had not been purchasing them anyway. 
My products are no longer inexpensive. For they were and are very costly to produce and involve much time, effort, love, and yes, sacrifice. 
I respectfully ask you to please go elsewhere if you want products that won't cost you much.
But if you want to give a handmade gift to someone that actually costs you something, ie, will make you sacrifice something of yourself ~then you have come to the right shop.
For I have sacrificed a part of my heart to be able to share each one of these gifts~not products~ with you for the glory of my God.
Each one has a part of me woven into them. 
And though you may not be able to see this, the Lord does, and He says that they have value. 
Thank you for letting me share my gifts with you.
"God made the Heaven, the earth, the sea, and all that therein is; He keepeth every promise forever." Psalm 146:6
"Love never fails." 1 Corinthians 13:8
'God is love." 1 John 4:8
 "Each Has Value" © 2019 Suzanne Davis Harden All Rights Reserved. All Glory To God. Wings Publications Gifts