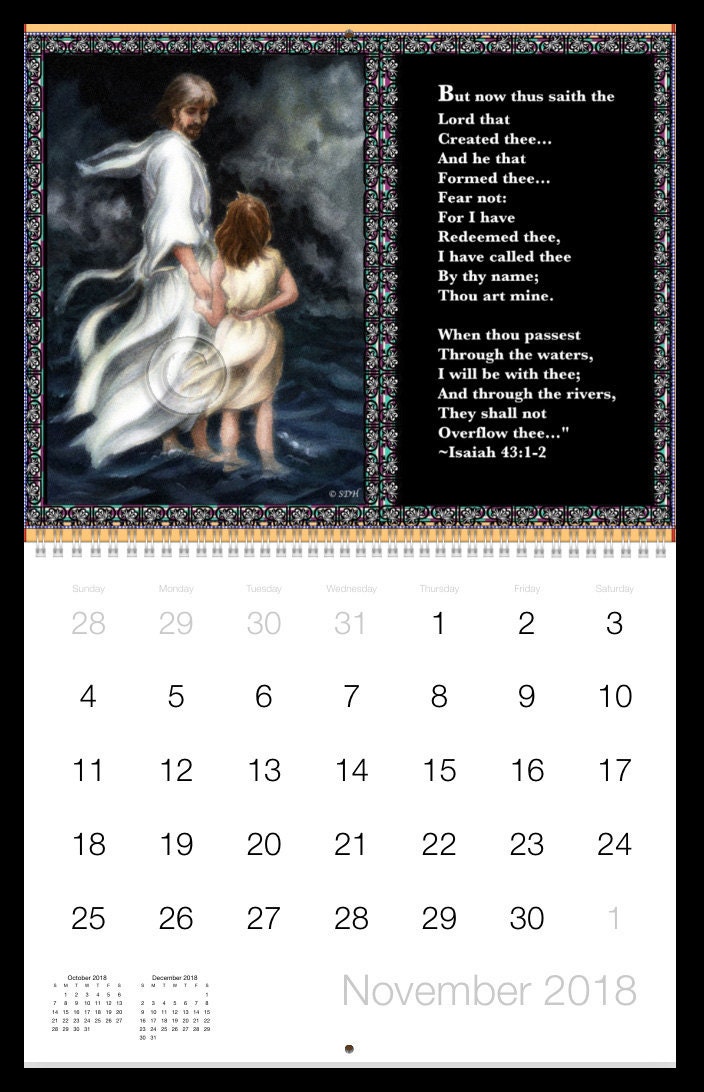 In Isaiah 43:1-2 God says: ""But now thus saith the Lord that created thee, O Jacob, and he that formed thee, O Israel, Fear not: for I have redeemed thee, I have called thee by thy name; thou art mine. When thou passest through the waters, I will be with thee; and through the rivers, they shall not overflow thee: " Isaiah 43:1-2 KJV    
 As I meditated on this Bible Promise posted on the month of November from my Encouraging Scripture Promise Calendar, the Lord showed me that through the imagery in Isaiah 43:1-2 that God was asking Israel to recall His past miracles to bolster their faith. 
· "But now, thus says the Lord that created thee," God is saying this message is especially for you from the One that created you…the One that FORMED you…" 
God wanted to remind them that not only did He create His people, He also formed them as a race and a nation.  
· "I have called thee by thy name," 
Jacob…Israel --God took Jacob, the family descended from Isaac and Abraham consisting of around 70 Hebrew families that went to Egypt originally.  In the course of six centuries they became a lowly race of slaves. 
The Lord sovereignly delivered them from their bondage through a mighty display of miracles and awesome power unprecedented in the ancient world. Through His miracles the unseen God revealed Himself.  
 "O you offspring of Abraham His servant, you children of Jacob, His chosen ones, He is the Lord our God; His judgments are in all the earth. He is [earnestly] mindful of His covenant and forever it is imprinted on His heart, the word which He commanded and established to a thousand generations, Psalm 105: 6-8 (AMP) 
· "Thou art Mine" (I have chosen you as My Own special people   "For you are a holy and set-apart people to the Lord your God; the Lord your God has chosen you to be a special people to Himself out of all the peoples on the face of the earth." Deuteronomy 7:6 (AMP)   
· "When thou passest through the waters…" (God parted the Red Sea so that the Israelites could pass through on dry ground, God went with His chosen people in a pillar of cloud and passed behind them to act as a blinding shield between them and the pursuing enemy Egyptians.
 "And the Angel of God Who went before the host of Israel moved and went behind them; and the pillar of the cloud went from before them and stood behind them," Exodus 14:19 
· The Israelites came to Red Sea with the Egyptians hot on their heels behind them. They were hemmed in with nowhere to go. They cried out to God. 
· "Moses told the people, Fear not; stand still (firm, confident, undismayed) and see the salvation of the Lord which He will work for you today. For the Egyptians you have seen today you shall never see again. · 
The Lord will fight for you, and you shall hold your peace and remain at rest." Exodus 14:13-14 (AMP)  
 · "And through the rivers, they shall not overflow thee…" 
(This is a reference to the mighty overflowing Jordan River that was at flood stage when God told Israel to cross into their Promised Land. 
The Lord dried up the Jordan River just as He had dried up the Red Sea so that His Chosen People could cross on dry ground.   
 "Now it was the harvest season and the Jordan was overflowing all its banks; but as the people set out to cross the river and as the feet of the priests who were carrying the Ark touched the water at the river's edge, 
suddenly, far up the river at the city of Adam, near Zarethan, the water began piling up as though against a dam! 
And the water below that point flowed on to the Dead Sea until the riverbed was empty. Then all the people crossed at a spot where the river was close to the city of Jericho, and the priests who were carrying the Ark stood on dry ground in the middle of the Jordan and waited as all the people passed by." Joshua 3:14-17 (TLB)  
 How does the Bible Promise in Isaiah 43:1-2, and all the Bible stories it refers to apply to me?  
Paul the Apostle wrote, "Now these things occurred as examples..." -(1 Corinthians 10:6 NIV) -referencing the writings of the Old Testament. 
There are wonderful parallels between God's chosen people in the Old Testament and Believers in Christ!
In the New Testament, Christians are God's chosen, redeemed people who were purchased from slavery to sin (a metaphorical Egypt) by the mighty hand of God through the spotless blood of His Son Jesus Christ who suffered and died on the cross to bear all of our sins.  
Like God's unprecedented displays of power to redeem His chosen people from bondage in Egypt, the death and resurrection of Jesus Christ, the Holy Son of God, was an unprecedented display of love for His creation to secure the redemption of His fallen creation from the curse of death and hell.  
The Bible is proof that there indeed is no one like our God who will go to any lengths to help the people He created and fiercely loves. ❤     
"God is love." (1John 4:8)  and He tells us in Isaiah 43:1"Fear Not…" 
Why?
 Fear is the cold water of death that will drown out the flame of faith and love that God ignites in the hearts of those who trust and hope in Him.  
Fear will paralyze us and keep us from moving forward when God says "If you have a Red Sea or an overflowing Jordan River in front of you, I AM here to part it for you. 
I will not only make a Sea path for you, I will go through it with you! 
I call you by your name, I know all about you, I didn't choose you because of your talent or any special skill, I chose you because I love you, even as I chose the Israelites who were but slaves before I delivered them from their bondage. 
I have great plans for you even as I had great plans for Israel, I made of them a mighty nation. 
If you trust and believe in Me, what do you think I can make of you? Have faith! For with God all things are possible.
Move forward with Me. Fear not…"  
Prayer 
Heavenly Father, help us to trust You and to walk by faith, knowing that You will never fail us, no matter what challenges we might face. You will walk through the rivers with us, make a way through the sea, you will overcome every challenge if we only believe, thank You, Lord, In Jesus' name, amen. 
  Jesus said, " You have not chosen Me, but I have chosen you and I have appointed you [I have planted you], that you might go and bear fruit and keep on bearing, and that your fruit may be lasting [that it may remain, abide], so that whatever you ask the Father in My Name [as presenting all that I Am], He may give it to you." (John 15:16 Amp)  
 "The Lord said to Moses, Why do you cry to Me? Tell the people of Israel to go forward!" Exodus 14:15 (AMP)  
   The 2018 Illustrated Encouraging Scripture Promise Calendar https://www.etsy.com/listing/482668989/the-2018-illustrated-encouraging?ref=related-1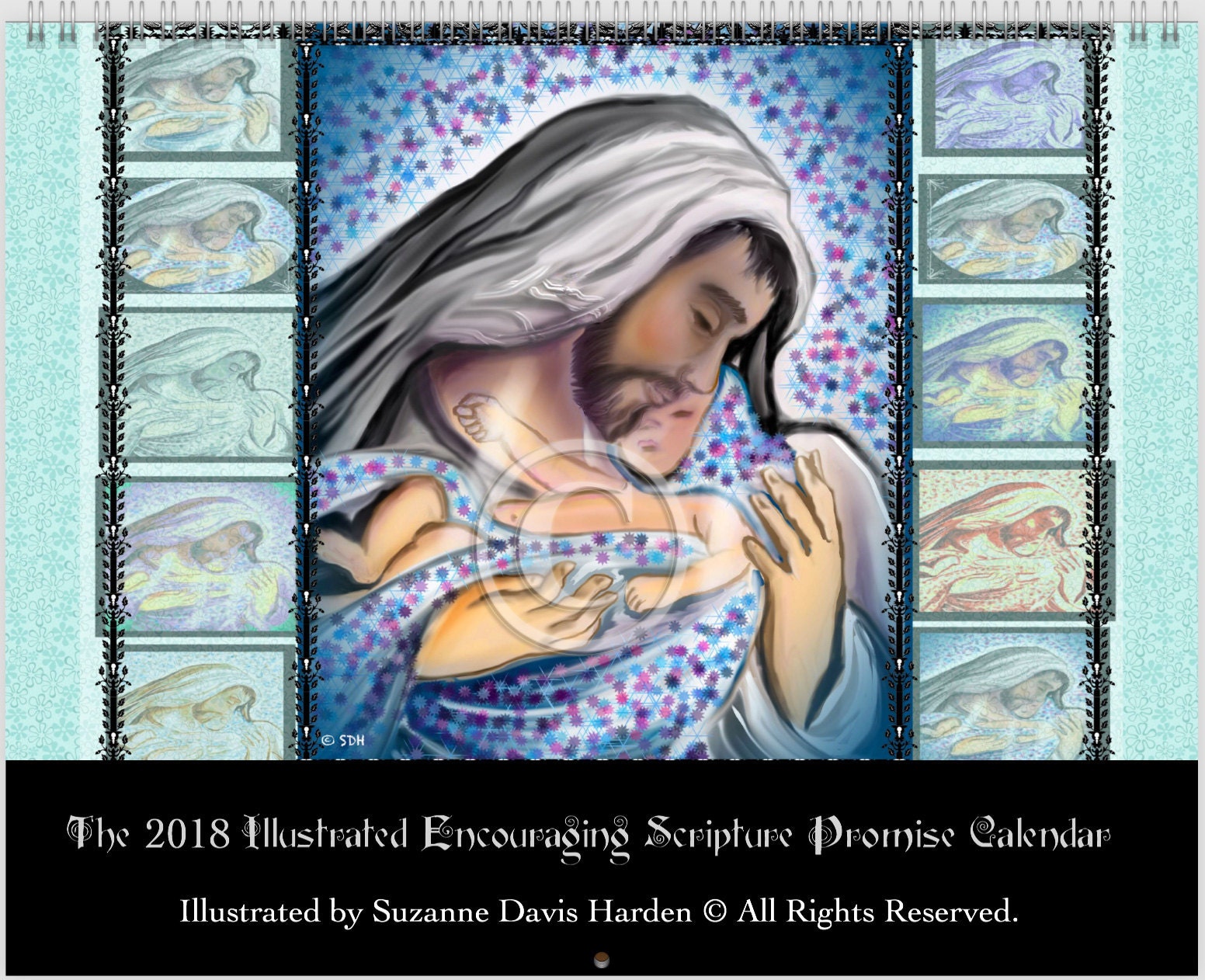 *I love the Bible promises so much in my 2017 Illustrated Encouraging Scripture Promise Calendar that I remade them exactly the same for my 2018 Scripture Promise Calendar! The timeless truths in God's word can never be exhausted and I learn something new from my calendar as I meditate on God's word posted on it every day. "Faith comes by hearing and hearing by the word of God." Romans 10:17
"Fear Not, I Have Redeemed Thee" © 2017 Suzanne Davis Harden All Rights Reserved. November Page from The 2017 Illustrated Encouraging Scripture Promise Calendar © Suzanne Davis Harden,  Scripture References, Amplified Bible, Classic Edition (AMPC)  Copyright © 1987 by The Lockman Foundation, King James Version (KJV) Living Bible (TLB) The Living Bible copyright © 1971 by Tyndale House Foundation. Used by permission of Tyndale House Publishers Inc., Carol Stream, Illinois 60188. All rights reserved.